Praca zdalna w domu to coraz częstszy standard w wielu firmach. Powoli zbliża się drugi rok pandemii. Nadszedł czas, abyśmy przyjrzeli się produktywności tej formy pracy oraz sprawdzili jak możemy poprawić jej jakość w kolejnych latach?
Szacuje się, że do 2025 roku 70% pracowników będzie pracować zdalnie. Okoliczność stojąca za tym wzrostem niekoniecznie wynika z samej pandemii, ale z potrzeby zwiększenia produktywności.
Praca zdalna istniała od dekad
Wiele osób na całym świecie wierzy, że praca zdalna została wdrożona tylko w celu zwalczania pandemii. Jednak rzeczywistość jest zupełnie inna. Praca zdalna istnieje od wczesnych lat siedemdziesiątych. W tamtych czasach używano terminu "Telepraca" i dopiero w 1979 roku taki model został zbadany. Co ciekawe, od tego modelu zaczynały wielkie firmy, takie jak PayPal czy Apple.
W tamtych czasach praca zdalna była nadal obcą koncepcją i dopiero w 2000 roku stała się bardziej znana z powodu rozwoju branży technologicznej i informatycznej. W dzisiejszych czasach praca zdalna stała się normą, ale czy jest bardziej produktywna niż tradycyjne środowisko pracy?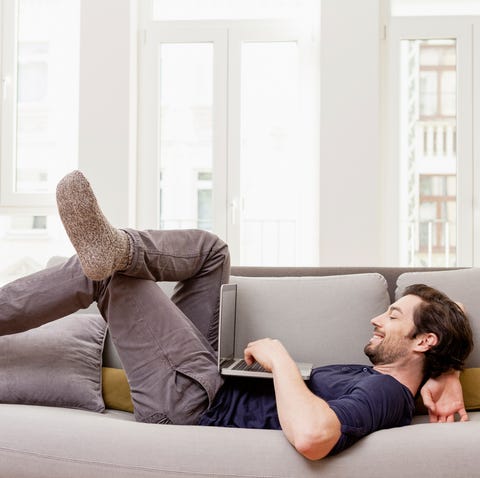 Obniżone koszty
Najpierw porozmawiajmy o oszczędnościach. Główną korzyścią takiej formy pracy jest to, że firmy mogą zaoszczędzić na czynszu, mediach, żywności i usługach sprzątania. Dla wielu startupów jest to już jedna czwarta ich ogólnych wydatków rocznie. To przyzwoita część zaoszczędzonego dochodu.
Ponadto pracownicy mają również szansę na zaoszczędzenie finansów. Nie muszą już martwić się o koszty transportu do pracy i posiłki, które muszą tam zakupić. Co więcej, nie będą mieli pokusy kupowania niepotrzebnych rzeczy w pobliskich sklepach w drodze do domu.
Jednak czy te zmniejszone koszty przekładają się na lepszą produktywność? Prosta odpowiedź na to pytanie brzmi: tak.
Praca zdalna jest produktywna
W zeszłym roku, kiedy po raz pierwszy wiele firm wdrożyło zasady pracy z domu, miały miejsce pewne problemy. W niektórych sytuacjach firmy straciły 20% swojej całkowitej produktywności w porównaniu z rokiem 2019. To zdecydowanie poważny problem dla każdej firmy.
Jednak w tym roku polityka pracy z domu zwiększyła produktywność wielu firm o 13%. To pokazuje, że praca zdalna jest efektywna.
Indywidualny sprzęt biurowy
Zakup sprzętu biurowego może być wyzwaniem dla wielu firm, które stosują politykę pracy z domu. Jednak wiele z nich wdrożyło zasady "Przynieś swoje urządzenie". Oznacza to, że pracownicy mogą korzystać ze swojego sprzętu podczas pracy zdalnej. Dostosowany sprzęt biurowy, zwłaszcza komputery do gier i laptopy, są bardziej wydajne, niż te tradycyjne biurowe. Szybsze i wydajniejsze komputery, które znamy z zacisza swojego domu, zdecydowanie zwiększą naszą wydajność.
Ogólnie rzecz biorąc, może to być błogosławieństwo. Im więcej firm finansuje swoich pracowników za korzystanie z ich prywatnego sprzętu, tym bardziej produktywni mogą się stać. Jednak nadal wymaga to nieco większej obserwacji w nadchodzących miesiącach. Koszt takiego finansowania może również przynieść niektórym firmom więcej szkody niż pożytku.
Mniej stresu w biurze
Stres w biurze może być poważnym problemem dla wielu pracowników. Niektórzy pracownicy nie lubią być obserwowani przez swoich menedżerów lub szefa. Nie chcą też innych gadatliwych współpracowników, którzy mogą odciągnąć ich od pracy. Teraz gdy ludzie pracują w domu, odczuwają mniejsze napięcie, co może przełożyć się na lepszą produktywność.
Pracownicy są również o wiele szczęśliwsi, gdyż pod koniec dnia spędzają zero godzin w biurze i więcej czasu w domu. Jednak to też ma swoje minusy, m.in. brak komunikacji i budowania relacji.
Nie ma innego wyboru
W większości firm praca zdalna to jedyny sposób, w jaki możemy pracować wydajnie bez ryzyka zakażenia w biurze. Coraz więcej pracowników głosuje za wprowadzeniem takiej polityki na stałe w ich firmach. Dla niektórych właścicieli może to być ryzyko, które chcą podjąć ze względu na wymienione powyżej zalety.