Marta Linkiewicz/ YouTube Krzysztof Gonciarz
Marta Linkiewicz rozpłakała się u Kuby Wojewódzkiego
Ten artykuł przeczytasz w 3 min. Artykuł został zaktualizowany 20.04.2022.
Kuba Wojewódzki przywitał Martę Linkiewicz słowami – Po swojej kolejnej udanej ostatniej walce Fame MMA pokazała, jak daleką drogę można przejść. Marta Linkiewicz wystąpiła w popularnym show TVN Kuby Wojewódzkiego, by podzielić się refleksjami na temat swojej metamorfozy. To kolejna próba rehabilitacji wizerunku znanej patoinfluencerki, rozliczenie się z przeszłością i pokazanie nowej sportowej twarzy Linkiewicz.
Wcześniej, bo dokładnie rok temu, znany youtuber Krzysztof Gonciarz nagrał prawie godzinny film ze spotkania z Martą Linkiewicz, która została kolejną bohaterką cyklu "Spędziłem dzień z…"
Cała Polska usłyszała o influencerce i zawodniczce Fame MMA (Linkimaster) w 2015 r., kiedy w sieci pojawiły się nagrania ze Snapchata, na których Marta wraz z koleżanką chwalą się tym, że uprawiały seks ze znanymi raperami z USA, w autokarze zespołu zaparkowanym pod warszawskim klubem Proxima. Nagranie szybko stało się viralem, który wiele osób pamięta do dziś.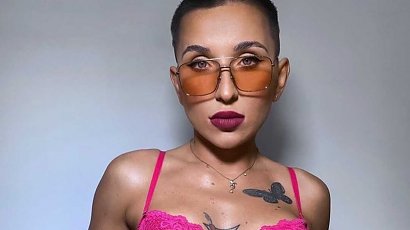 Jeszcze długo po kontrowersyjnym wideo Marta Linkiewicz budowała swoją popularność pokazując swoje imprezowe życie, bogate w używki oraz bazujące na wulgarności i seks podbojach – zatem jej publiczny wizerunek sprowadza się do patologii społecznych, jednak nie możemy jej odmówić, że na stałe wpisała się już złotymi zgłoskami na kartach historii polskiego Internetu.
Marta Linkiewicz zupełnie odmieniona u Kuby Wojewódzkiego
Wojewódzki szybko przeszedł do sedna. – Jesteś influencerką i z tego żyjesz. Co było przekroczeniem pewnej granicy? – Nooo, autokar (gdzie uprawiała seks z raperami – przyp. red.). – szybko odpowiedziała Linkiewicz.
Linkiewicz potwierdziła, że relacja o seksie grupowym z raperami wydarzyła się naprawdę, ale z perspektywy czasu nie był to fajny seks i chciałaby to w końcu zostawić za sobą.
Czy się opłacało? – dopytywał Wojewódzki o jej wcześniejsze wybryki w świetle mediów społecznościowych. – Myślę, że jest fajnie. Podoba mi się moje życie.
Krzysztof Gonciarz przybliżył postać Marty Linkieiwcz
Bohaterka wzięła udział także w internetowym programie "Spędziłem dzień z …". Youtuber spędził cały dzień z Martą, towarzysząc jej przy każdej czynności, przeprowadzając z nią długi wywiad, który zostaje wzbogacony wypowiedziami innych powiązanych z nią osób. Dzięki temu Gonciarzowi udało się pokazać zupełnie inne oblicze Marty, niekoniecznie to znane z codziennych doniesień.
– Uważam, że byłam po prostu nieświadomą niczego małolatą. Miałam wtedy osiemnaście lat. I to jaki lincz na mnie spadł był dla mnie szokujący po prostu. Zrobiłam coś głupiego, okej. Może nie fajnego, ale nie powinnam zostawać z tym wszystkim sama, a zostałam. Ale se poradziłam, nie? – powiedziała Linkiewicz.
Po wypłynięciu kontrowersyjnego filmiku do sieci Linkiewicz mierzyła się z ogromnym hejtem. Niestety nie tylko ona, ponieważ konsekwencje jej czynów dotknęły również jej siostrę, która była prześladowana w szkole. Otatecznie jej matka oraz siostra zdecydowały się zmienić nazwisko.
Moja siostra chodziła wtedy do gimnazjum. Ona o tym wiedziała, moi rodzice o tym nie wiedzieli. Pamiętam, że prosiłam ją z łzami w oczach, żeby nic nie mówiła rodzicom. Z jej strony to było oczywiste. Była młoda, no mniejsza z tym. Widziałam, że chodzi taka przybita i mi powiedziała, że chodzi po szkole i dzieci po prostu chodzą za nią i krzyczą "Jaka siostra, taka siostra". To też było dla mnie strasznie przykre – opowiedziała.
Wypowiedzi Marty Linkiewicz w większości opierają się na przekleństwach, jednak z biegiem czasu staje się coraz bardziej otwarta i szczera. Bywa refleksyjnie i smutno, ale nie brakuje też momentów zabawnych i lekkich. Bohaterka najnowszego cyklu "Spędziłem dzień z…"  jest tutaj bardzo kolorową osobą, a Gonciarzowi udało się podjąć wiele ciekawych wątków i dobrze je rozwinąć.
Przekonajcie się sami: