Pinterest
Jaka jest krótka odpowiedź? Nie, rozmiar penisa nie ma znaczenia — przynajmniej nie pod względem atrakcyjności czy funkcji. Jego rozmiar nie ma żadnego wpływu na jego zdolność do dawania i odbierania przyjemności lub robienia tego, co ma robić.
To nie znaczy, że niektórzy ludzie nie wolą większego lub mniejszego. Jest to kwestia preferencji  — to trochę jak z ananasem na pizzy, każdy ma swoje własne preferencje.
Nie zgadasz się z tą tezą i potrzebujesz dowodu? Czytaj dalej.
Większy nie znaczy lepszy
W przeciwieństwie do stereotypu, który możesz nadal usłyszeć w męskiej szatni, większy penis to nie wszystko. Penisy większe niż przeciętne wiążą się z większym ryzykiem kontuzji i infekcji. Zbyt długi interes może również sprawić, że niektóre pozycje będą szczególnie bolesne. Zbyt duży obwód, jeśli nie będziesz ostrożny, może spowodować rozdarcie tkanek — szczególnie podczas seksu analnego. Znaczny rozmiar wzmaga odruch krztuszenia się i wymiotów, z którymi ktoś musi się zmagać podczas seksu oralnego.
Oczywiście są sposoby na obejście tych niedogodności, ale to tylko pokazuje, że posiadanie "dużego" to nie wszystko.
Mniejszy niekoniecznie znaczy gorszy
"Mały, ale wariat" – kto nie słyszał tego klasyka, nie zna życia! Mniejszy interes jest automatycznie łatwiejszy w obsłudze. Oznacza to, że ​​wszyscy zaangażowani w temat mogą skupić się na przyjemności, a nie na bólu. Na pewno taki interes łatwiej mieści się w ustach. A jeśli chodzi o anal, to mniejszy penis jest w zasadzie najlepszym koniem. Niezależnie od rozmiaru, wszelkie dostrzeżone niedociągnięcia są łatwo – i przyjemnie – korygowane we właściwej pozycji.
Średni rozmiar penisa – jest mniejszy niż myślisz
Większość ludzi z penisami – około 85 procent – przecenia średnią wielkości. Dodatkowo są przekonani, że ​​wszyscy inni pakują coś o wiele większego niż oni.
Oto dawka rzeczywistości oparta na najnowszych statystykach dotyczących rozmiaru męskich interesów:
Średniej długości penis ma 9,1 cm w stanie spoczynku i 13,12 cm podczas pełnego wzwodu
Jeśli chodzi o obwód, przeciętny miękki interes ma 9,31 cm , natomiast w wzwodzie to już 11,66 cm
Żeby było jasne: rozmiar nie ma nic wspólnego z wytrzymałością
Możesz być "dobrze wyposażony", a mimo będzie brakowało tobie wytrzymałości. Duży penis nie będzie działał dłużej niż mniejszy, ani nie sprawi, że popłyniesz szybciej, niż byś chciał.
Rozmiar nie wpływa także na płodność
Jeśli myślisz o potomstwie, ostatnią rzeczą, którą musisz zrobić, jest stresowanie się twoim rozmiarem.
Wyjaśnijmy coś.. Plemniki są produkowane w jądrach, a nie w penisie. Ponadto istnieją dowody na to, że stres może obniżyć jakość nasienia i wpływać na płodność.
Dodatkowo stres może również negatywnie wpłynąć na przyjemność seksualną oraz wpłynąć negatywnie na ogólny stan zdrowia.
Jedyne, co może zrobić rozmiar, to wpłynąć na twoją grę
Rozmiar twojego interesu może całkowicie wpłynąć na twoją grę w łóżku. Dowiedz się, jak najlepiej wykorzystać to, co masz i wszystkie inne sposoby na sprawianie przyjemności, a zostaniesz gwiazdą rocka. Skupiając się na samym rozmiarze, odniesiesz klapę.
Niektórzy ludzie zaniedbują swoje umiejętności, ponieważ myślą, że wielki kutas to wszystko, czego potrzebują, aby rozbujać czyjś świat… a tak nie jest. Inni przez obawy o "małego" pozbawiają się pewności siebie. Wszystkie te rzeczy mogą odbić się psychicznie na posiadaczu penisa i wyssać radość z seksu dla wszystkich zaangażowanych.
Jak zmaksymalizować efekty tego, z czym żyjesz
Pamiętaj, że to nie rozmiar twojego penisa ma tak duże znaczenie, jak to, co z nim zrobisz. Nie ma nic lepszego niż pozostawienie partnerki wijącej się w ekstazie, aby podnieść swoją pewność siebie, która będzie ci dobrze służyć, zarówno w sypialni, jak i poza nią.
Oto jak zmaksymalizować działania tego, co masz między nogami i czuć się z nim dobrze — niezależnie od tego, czy wpasowujesz się w większy, mniejszy rozmiar, lub gdzieś pomiędzy.
Jeśli jesteś bardziej obdarzony
Kluczem do pracy z większym niż przeciętny penis nie jest nawet twój penis — przynajmniej nie na początku.
Upewnienie się, że twoja partnerka jest podniecona, ułatwi jej radzenie sobie z twoją bestią, więc konieczne jest dodatkowe skupienie się na grze wstępnej. Nie zapomnij o lubrykancie. Będzie potrzebne dużo smaru.
Użyj ust, języka lub palców, aby drażnić jej strefy erogenne, skupiając się na wszystkich typowych podejrzanych, takich jak piersi i okolice intymne, a także na niektórych mniej zbadanych, ale zaskakująco erotycznych miejscach, takich jak wewnętrzna strona ramion i ud, szyja i uszy. Jeśli oboje jesteście gotowi do przejścia do penetracji, wybierz pozycje, która pozwoli Twojej partnerce na trochę większą kontrolę nad głębokością.
Jeśli jesteś mniej obdarzony
Jeśli twój penis zalicza się do mniejszych interesów, skup się na pozycjach, które pozwolą ci wejść głęboko. Dobra będzie pozycja na pieska. Aby zmaksymalizować głębokość, każ partnerce obniżyć głowę i klatkę piersiową, jednocześnie wyginając pośladki ku górze.
Jeśli masz cieńszego penisa, wybierz pozycje, które zapewniają mocniejszy ucisk. To może być naprawdę dowolna pozycja seksualna, o ile twoja partnerka trzyma nogi razem.
Pozycje misjonarskie działają ze złożonymi nogami.
Nie pozwól, aby Twoje zmartwienia sprawiły, że zapomnisz o innych rodzajach seksu. Dodaj do menu seks oralny jako przystawkę, a nawet danie główne.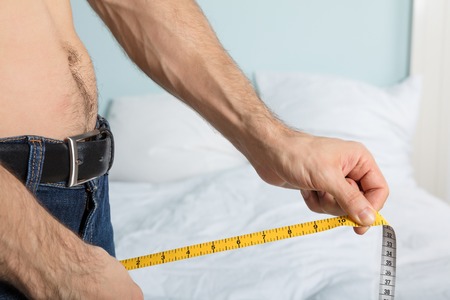 Najważniejsze!
Rozmiar twojego interesu nie determinuje tego jak dobry jesteś w łóżku, ale to jak sobie z nim radzisz.
Dowiedzenie się, co jest dobre dla Ciebie i Twojej partnerki oraz wybór pozycji i tricków, które w pełni wykorzystają potencjał twojego penisa, będą Ci służyć lepiej, niż martwienie się. Zatem do dzieła!